Release Date: 2003
Director: Nancy Meyers
Writer: Nancy Meyers
Stars: 
Jack Nicholson
Diane Keaton
Keanu Reeves
Frances McDormand
Amanda Peet
Click HERE for Full Cast and Crew
Locations of L.I. Shoots:
Southampton and East Hampton – Jack Nicholson and Diane Keaton's romantic outdoor scenes
East Hampton Studio – Beach house interiors
Of Interest:
Click HERE for Nominations and Awards
Click HERE for Hooked on Houses
***SOMETHING'S GOTTA GIVE (2003) is about an aging swinger with a taste for women one-third his age who falls in love with his latest conquest's mother. It stars Jack Nicholson and Diane Keaton and is a romantic comedy by Nancy Meyers, filmed at an oceanfront mansion and on various streets in downtown Southampton and East Hampton. Newtown Lane in East Hampton was shut down for several hours several times during the making of this movie. In one scene, Nicholson was filmed coming out of a store with an ice cream cone on Newtown Lane, but it wound up on the cutting room floor (the celluloid, not the ice cream). Scenes from Newtown Lane that did make the film include several from the old Barefoot Contessa gourmet food shop, since closed down as its owner, Ina Garten, has gone on to fame and fortune with cookbooks and TV. (Dan's Papers 10-2013) added 11-2-16
Diane Keaton's "Something's Gotta Give" House Sells For $41M: This Week's Top Hamptons Real Estate Transfer – From Hamptons.com Dec. 2014
George Simpson – [email protected]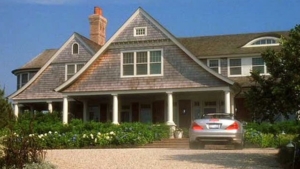 This spectacular oceanfront Hamptons estate was made famous in 2003's "Something's Gotta Give" starring Diane Keaton and Jack Nicholson. (Photo: Sony Pictures)
The Southampton house made famous as Diane Keaton and Jack Nicholson's beachfront bungalo in "Something's Gotta Give" recently sold, very privately in fact, for a record-breaking $41M to Lowes Corporation CEO Jimmy Tisch. Mediabistro.com CEO Alan Meckler purchased the property in 1999 for $5.5M and completed construction of the nearly 8,000 square foot home, with 7-bedrooms and 11-bathrooms, in 2000. We hear that while it's stunning there isn't even room for tennis on the nearly 2-acre spread.