Release Date:  2005
Co-Producers and Co-Directors: 
Philip Snyder and Robert M. Snyder
Click HERE for Cast & Crew and Full Movie
Movie Synopsis: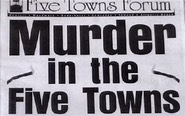 A dark comedy, Paperman explores the desperate mind of a newspaper editor/reporter/paperboy pressured into coming up with the "Big Story" by his abusive boss. Writer/Co-Director Robert Snyder stars in the title role. His mother, Eleanor Snyder, co-stars as his bed-ridden grandmother, Howard Swengler gives a scene-stealing performance as the Boss from Hell, and Ralph Edsell, a Snyder Films regular cast member, plays a tormented actor/friend.
Locations of L.I. Shoots:
Lawrence, Cedarhurst, Woodmere, Hewlett and Sands Point.
Of Interest:
• Won Best Short Film Award Filmmakers' Connection Minifest-2002
• Screened at LI International Film Expo-2003
• Won Best Short Film Under 10 Minutes-Barebones Film Festival-Tulsa, Oklahoma-2005